How to play the game "Dress Up and Makeover Shakira Game"?
Hey girls! Any Shakira fans here today? This gorgeous girl loves touring around different countries performing to her adoring fans, and she really knows how to put on a show! Today she's in Barcelona, Spain, and is about to perform onstage in front of thousands of excited girls and boys. There are even celebrities in the audience, and Shakira is hoping to catch a certain footballer's eye backstage after the show… Can you make sure she looks especially glamorous for her performance in this star dress up game for girls? Read more
The first thing you have to do in this star game is give Shakira a makeover, so rummage through her makeup bag and find a pretty eyeshadow, a shiny lipgloss and other items, then finish off her new look with a nice new hairstyle. Next you need to dress up Shakira for her performance. Just like all of our girls' games, it's entirely up to you how you dress her – you're the head stylist in these star games! Have fun, and keep browsing the site for lots more Shakira games for girls once you're finished!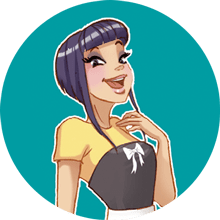 Dress Up and Makeover Shakira is one of my favorites! We clearly have awesome taste! Come and play more of my fave makeover games!