How to play the game "Dress like Fashionable Barbie Game"?
Since Daniella was a little girl, the only toys that interested her were Barbie dolls. Every time Christmas or a birthday would roll around, Daniella would ask for the latest Barbie. Every friend and relative would buy Barbie dolls for Daniella every year, so she has built up quite a collection! This Barbie girl doesn't play with her dolls anymore, but they are on display in her room. Instead, Daniella likes to dress up as a real-life Barbie doll! It's clear that she is still a massive fan in this free dress up game for girls. Read more
We think it's fair to say that Daniella is obsessed with Barbie. All of her outfits are based on Barbie fashion. The clothes, accessories, hairstyles, color scheme (pink, obviously)…Daniella is a real Barbie girl for sure! You can have fun choosing lots of Barbie inspired outfits for this pretty girl. Once you've done that, click on 'challenge' if you think you've got the skills. Can you remember the look and copy it fast enough? Do you like Barbies clothes, or do you prefer Bratz? Tell us in the comments after playing!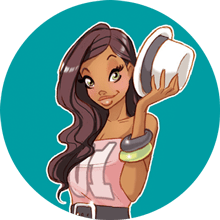 You're clearly loving Dress like Fashionable Barbie - you should check out my pick of the best fashion games!