How to play the game "100% free Game"?
In another of our great brain puzzle games you will now have to be very careful and think before taking any action. Indeed, you must succeed in eliminating all blocks in this strategy game for girls by playing around with clusters of cubes of the same color. To remove clusters, there should at least be two right next to each other. The number of remaining blocks to eliminate is shown on the right appears in this free girls strategy game. At the end of this free game for girls you can see your score and try to do better each time. Read more
The number of cubes that you have not eliminated at the end of the game is displayed so remember to put your score in the comments of this game so that other girls try to do better. At the start of the game you can choose the level of difficulty with which you wish to play. Join us to play this free game now! Then try our other free strategy games for girls.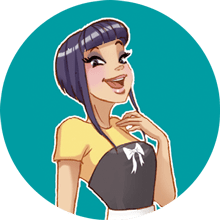 100% free is one of my favorites! We clearly have awesome taste! Come and play more of my fave free games!