How to play the game "True Makeup Lana del Rey Game"?
How would you like to makeover the very beautiful Lana Del Rey? You can get to know the 'Born to Die' singer a little better thanks to this girls' game! This gorgeous American girl is set to perform to thousands of fans at a huge concert in Barcelona tonight, and guess who gets to be her personal stylist in this celebrity make up game? That's right, you! Read more
Lana Del Rey has millions of fans all over the world, and with beautiful songs such as 'Born to Die' and 'Blue Jeans' to her name it's easy to see why! In this celebrity makeover game you can make the famous indie star look more beautiful than ever for her big performance in Barcelona tonight while you listen to her huge hit single 'Video Games'. Have fun, and make sure you check out the celebrity games section for more fun with your favorite stars!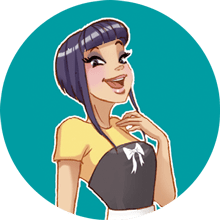 True Makeup Lana del Rey is one of my favorites! We clearly have awesome taste! Come and play more of my fave makeover games!