How to play the game "Alice's Makeover in Wonderland Game"?
Alice is still in Wonderland in this girls' celebrity game. She's been living there for a while now, and she loves it! The problem is, when she fell down the rabbit hole, she didn't have any of her belongings with her! So, that means that all of her beauty products, cosmetics, make up, hair products and clothes are still at home! In fact, poor Alice has been wearing that same dress for ages, and she is long overdue a makeover. Can you help her? Read more
In this free celebrity make up game for girls, you need to cleanse and moisturise Alice's skin before applying make up and choosing an outfit for her. It sounds easy, but there are so many options to choose from that it will take longer than you think! There are three steps to this free Alice in Wonderland game, so make sure you follow all the steps closely to give Alice the look she wants. Wow, she looks like a new girl! Hmm, we wonder how long she'll stay in Wonderland.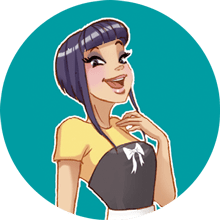 Alice's Makeover in Wonderland is one of my favorites! We clearly have awesome taste! Come and play more of my fave makeover games!