How to play the game "Best Coloring Game for Girls"?
It can be tricky for girls to create and test out different makeup styles. Cosmetics can be expensive and, even if you buy all kinds, there's always another shade of lipstick, or blusher, or bronzer to try! Just imagein if you could try out thousands of different makeup looks for free - and without making a mess...
The answer is this game! Designed for girls who love to try out the most daring makeup looks, let your imagination run wild with every single colour of eyeshadow, mascara and anything else to try out stylish and unique looks!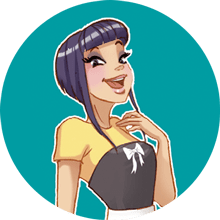 Best Coloring Game for Girls is one of my favorites! We clearly have awesome taste! Come and play more of my fave design games!