How to play the game "10 Going On 20 Game"?
Last night, Natalie's mother told her off for playing with make up. Natalie's mother says she's far too young to be thinking about lipstick and mascara, but Natalie was upset and wished she WAS old enough to wear make up! The next morning, Natalie woke up and found she was 25 years old! She's a student, she lives with her friends and she has a closet full of amazing clothes - and a drawer full of make up! Dress up Natalie for a day in the life of an adult!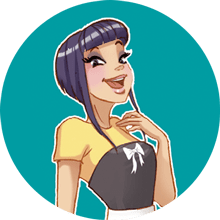 10 Going On 20 is one of my favorites! We clearly have awesome taste! Come and play more of my fave make up games!