How to play the game "Cat in a Maze Game"?
How would you girls like to go on an adventure? In this surprise girl game you'll meet Whiskers, an adorable ginger cat who loves exploring new places and getting into all sorts of scrapes! This morning her friend Francis, a posh young snail who is heir to a diamond fortune, phoned her in a terrible flap: some nasty animal has stolen all of his gem stones! Luckily Whiskers is the sort of girl who loves a challenge, so she's run off to find the diamonds for her friend. Can you help her through the labyrinth in this maze game for girls, collecting all the blue gemstones you see along the way? The thief has been very careless and dropped them all over the forest, so there are dozens for you to find! Read more
To play this maze game for girls, just use the arrows on your keyboard to direct Whiskers the cat left to right or up and down through the labyrinth. She only has a few minutes to pick up all of the diamonds and find her way out of the maze, so you'd better be fast! Maze games like this one really put your strategy and logic to the test, and they can be pretty tricky... but not too difficult for a girls' games expert like you! Thanks to your help in this free cat game, Whiskers will have no problem finding the diamonds and returning them to Francis - maybe he'll even let her keep one or two! Have fun getting lost in all the great girls' games here at MyGames4Girls, and keep an eye out for more maze games along the way!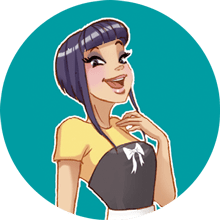 Cat in a Maze is one of my favorites! We clearly have awesome taste! Come and play more of my fave maze games!