How to play the game "Princess Cake for 9-Year-Old Girl Game"?
Lily's ninth birthday is coming up in our girls' games, and you know what that means: a party, presents and tasty birthday cake! Lily is the sort of girl who loves princesses, and in this girls' game we're going to make her a beautiful princess cake for her special day. We've already cooked the sponge so now it's up to you to pick an outfit and hairstyle for the princess, just like in our princess dress up games. Let's make sure Lily remembers her ninth birthday party forever! Read more
Decorating cakes and cookies is really easy with our girls' games; just click the icons on the screen to choose what sort of princess cake you think this 9-year-old girl would like best. You can choose from lots of different sponges decorated with candies, frosting, chocolate and other tasty treats. Is your birthday coming up soon? What kind of birthday cake would you like at your party? Whether you're six, nine, twelve or any other age, you'll love the girls' games on this site!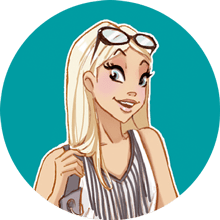 If you enjoyed Princess Cake for 9-Year-Old Girl , you'll love these princess games just like me!