How to play the game "Makeover Lady Gaga and Beyonce Game"?
Love celebrity makeover games? Then you'll love the extra special makeover game we have lined up for you girls today, because it stars not one, but two of the biggest names in music: Lady Gaga and Beyonce! As you probably know, these glamorous pop girls collaborated on a song called 'Telephone' a couple of years back, and since then they've stayed good friends. Today they're about to share the stage at a huge charity concert in Los Angeles, and they both want to look their absolute best for this special event. Think you can find a brand new look for Lady Gaga and Beyonce in this star makeover game? Read more
Star makeover games are always great, but this one is double the fun because you get to makeover and dress up both popstars at once! First, you'll get to makeover Lady Gaga and Beyonce, with lipstick, eyeshadow, mascara and everything else a professional make up artist needs to do her job properly. Next you'll get to dress up the girls, choosing from loads of different dresses, shoes and tons of awesome accessories. As well as being incredibly talented, Beyonce and Lady Gaga are both very adventurous when it comes to fashion and makeup, so don't hold back! Be as creative as you can in this star fashion game and make sure Lady Gaga and Beyonce are set to get the critics and their fans talking when they hit the stage! Have fun playing with these star girls, and make sure you keep browsing our girls' games for make up games with Beyonce, Lady Gaga, and all your other favorite celebrities!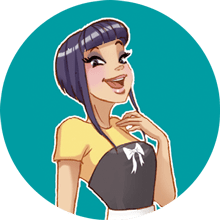 Makeover Lady Gaga and Beyonce is one of my favorites! We clearly have awesome taste! Come and play more of my fave celebrity games!