How to play the game "Disney Ratatouille's Restaurant Game"?
This Disney game will let you play with all the wonderful characters of the Disney cartoon Ratatouille. So if you're a fan of this Disney classic, you really will have fun. Disney games for girls are all really good fun girls games. You will have to be careful to serve all clients that will come in your restaurant without making them wait too long. When a customer comes to the door, you will need to click on an empty chair for him to sit down. Then click on the dishes that Linguini makes and then click on the customer to serve it to them. Read more
Remember that new customers are waiting for you behind the door so don't get too caught up with just one customer! Also remember to click on the clients who have already left their table so that you can pick up the money that they have left for you, and to make tables free for new customers to come and sit down. This girls waitress game is quite hard because you need to do lots of things at the same time, but if you concentrate a little bit you'll be fine! Waitressing games for girls are fun so try our other girls waitress games on my games 4 girls!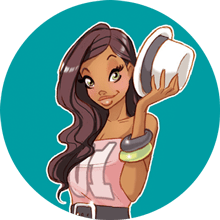 You're clearly loving Disney Ratatouille's Restaurant - you should check out my pick of the best restaurant games!