How to play the game "Bratz Doll Makeover Game"?
Yasmin, Cloe, Sasha, Roxxi... which Bratz girl do you like best? If you're a Jade fan you're in luck, because this Bratz game for girls stars the 'Kool Kat' herself! With her long brown hair and bright green eyes, Jade is without a doubt one of the prettiest Bratz girls. In this Bratz makeover game you'll get to give her a brand new look and make her look even more gorgeous! Read more
Eyeshadow, lipstick, mascara, blushers... like all of our girls' games, you'll find all the make up you need to give Jade, nicknamed Kool Kat, a makeover worthy of a star. You'll also get to choose her dress, and you can add earrings, hairbands, necklaces and even temporary tattoos to finish off her gorgeous new look. She'll be a whole new doll once you're finish with her in this Bratz game!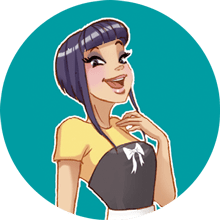 Bratz Doll Makeover is one of my favorites! We clearly have awesome taste! Come and play more of my fave doll games!