How to play the game "Nicki Minaj Fashion Game"?
Here's another star dress up game featuring our favorite rapper: Nicki Minaj! Today Nicki is getting ready to perform to thousands of people at a huge concert in London. The stage is set, her vocal chords are all warmed up and the crowd is buzzing. Now there's just one thing missing: her costume! If you love Nicki Minaj you'll know the 'Super Bass' singer has a crazy sense of style and is really adventurous when it comes to hair, makeup and fashion. You can find a really outlandish outfit for her to perform in with this star fashion game, and with your help this singer will look as good as she sounds when she hits the stage! Read more
In our girls' games you can dress up stars and celebrities any way you like! How will you style Nicki Minaj in this fun fashion game? You'll find loads of crazy, colorful creations in this star's wardrobe: leopard print dresses, thick fur coats, peach jumpsuits... Just like her friend Lady Gaga, Nicki Minaj isn't scared to experiment with garish patterns and vivid colors, and you shouldn't be either! Try out loads of combinations of clothes and accessories in this star fashion game until you've found an outfit that will keep Nicki's fans talking for days after the show. And don't forget her hair! Nicki Minaj is famous for her blonde and pink hairstyles, so have fun trying out the options in this star makeover game. Keep playing with your favorite singers and rappers in our celebrity dress up games, and make sure you come by our forums to tell us all about your favorite popstars!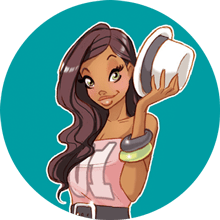 You're clearly loving Nicki Minaj Fashion Game - you should check out my pick of the best celebrity games!