How to play the game "Home Shopping Game"?
It's time to move house in our girls' games! In this puzzle game you'll meet Maya and Lizzie, who have just bought a brand new apartment in the center of the city. They can't wait to move into their new place, but there's one problem - they don't have a single piece of furniture! They need to head to the home decoration store to stock up on bits and pieces to decorate the house with, asap! There are tons of different things for them to buy in this shopping game, but the shop is really badly organized and it's super hard to find anything. Think you can help the girls find the items they need for their new apartment before the time runs out? Let's see if you've got what it takes to become a real interior designer! Read more
You'll have to find a huge range of different items in this hidden objects game: lamps, pots, cameras, CDs, umbrellas, even clothes... Look at the bottom left corner of the screen to see the item the girls need, then try to locate it as fast as you can. The home deco store is massive and very cluttered, so you'll need to keep you eyes peeled! If you get stuck in this hidden objects game, click 'Hint' and the girls will give you a clue. Once you've found everything they need, you'll get to start decorating the house! Wallpaper, paint, carpets, rugs, beds, bookcases, tables, chairs... you'll have everything you need to turn the girls' empty apartment into a colorful, cosy little pad that they'll both just love. You get to enjoy two games in one with this girls' game! Keep browsing the site for decorating games, puzzle games and much more... there's so much fun to be had at MyGames4Girls.com!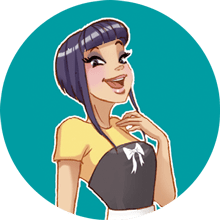 Home Shopping is one of my favorites! We clearly have awesome taste! Come and play more of my fave home games!