How to play the game "Chickens on the Farm Game"?
There are always new surprises waiting for you in these girls' games! Today you're going to be visiting a farm where lots of little chickens are running around laying eggs. You need to pick them up for the farmer, but it's not as easy as it sounds… You'll see pictures of three toys or objects on the screen, and you must only pick up the eggs of the chickens holding up a matching sign. You'll get 100 points for every egg you pick correctly in this farm game, but choose carefully because you'll lose a life if you make a mistake. You only have a few seconds to find the right egg, so be quick! Read more
You'll need to stay alert and concentrate hard if you want to find all the right eggs in this puzzle game for girls! Once you find ten, you'll move onto the next level; each level is a little bit harder than the last, with more chickens to choose from and more difficult items to pick. Being a farmer is tough work, huh?! If you love online games like Farmville, you'll love working on a farm with the chickens today. Have fun, and make sure you check out the rest of our girls' games for lots more surprises!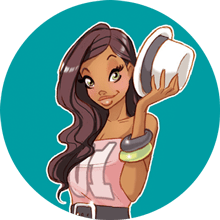 You're clearly loving Chickens on the Farm - you should check out my pick of the best farm games!