How to play the game "Bedroom Clean Up Game"?
Are you a tidy sort of girl or a messy one? Our friend Penny is the most disorganized girl you'll ever meet; her bedroom at home looks like a bomb hit it, and her mom and dad are always nagging at her to put her toys and games away. If you're like Penny and never leave anything in its proper place, maybe it's time you practised cleaning and tidying up with our free girls' games! Read more
In this online house game, Penny's mom has told her to tidy up the bedroom before she gets home but the silly girl has been so busy playing girls' games that she forgot all about it... Now her mom is just a few minutes away, and she only has a few minutes to get the room in order! Help her put her clothes, books and toys in their proper place and leave bedroom looking spotless for when her mom gets back. Good luck!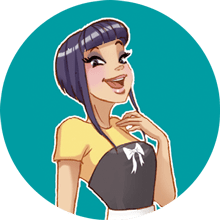 Bedroom Clean Up is one of my favorites! We clearly have awesome taste! Come and play more of my fave free games!