How to play the game "Baking Chocolate Lava Cake Game"?
Jenny loves cooking and has always dreamt of being a famous TV chef. Today she's very excited, because she's been given the chance to audition for a brand-new cookery show for girls! She's put on her best dress, done her hair and make up and now she just needs to cook something delicious to impress the producers. Let's give her a hand making her favorite chocolate cake in this girls' game - fingers crossed she'll get the job! Read more
If you play lots of cooking games for girls you'll surely know lots of great chocolate recipes. Jenny is going to make chocolate lava cake, a rich sponge with warm melted chocolate oozing out of the center. With your help this talented baker girl should be able impress the producers and kick-start her cookery career! Cooking games are lots of fun and much easier than actual baking. For one thing, there's no washing up to do afterwards! Have fun with this chocolate cake game, and make sure you check out the rest of the girls' games on the site for more delicious recipes. Enjoy!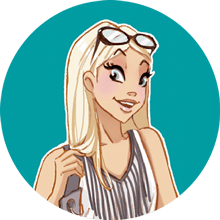 If you enjoyed Baking Chocolate Lava Cake, you'll love these baking games just like me!