How to play the game "High School Slacking Game"?
Today's class isn't any fun at all - Lucy forgot her homework and is being made to sit right at the back of the class. She's alone at her desk with no one to talk to, so she needs your help to keep boredom at bay! Help her to eat candy, throw paper balls at her classmates, paint her backpack and pretty much anything else you can think of. Just make sure the teacher doesn't see!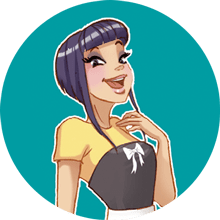 High School Slacking is one of my favorites! We clearly have awesome taste! Come and play more of my fave slacking games!