How to play the game "Selena Gomez Game "?
Famous all around the world thanks to smash hits such as 'Kiss and Tell', 'Who Says' and 'Love You Like a Love Song' and her role in 'Wizards of Waverly Place', Selena Gomez is without a doubt one of the most photographed girls in Hollywood! And guess what? Thanks to our girls' games, you can style and dress this pop princess whenever you like. Today you'll get to give Selena a star makeover before she heads off to meet her boyfriend, Justin Bieber, for a romantic date. If you've ever dreamt of working as a makeup artist to the stars, here's your chance – so grab your makeup brushes and let's get to work! Read more
Eyeshadow, mascara, blusher, eyeliner, foundation… you'll have everything you need to make Selena look like she's just stepped out of a magazine in this girls' beauty game. Don't forget to add the finishing touches to this beautiful popstar's makeover by taking care of her hair and eyebrows and giving her some nice sparkly accessories, such as earrings or a pretty necklace. When you're as famous as Selena the paparazzi are never far away, but thanks to you she'll look even more stunning the next time she and Justin appear in a magazine or newspaper. Whether she's pictured with Justin or stepping out alone, Selena is always really well-dressed; in this girls' game you can give her a brand new look to impress her fans with just a few clicks of your mouse! If you love playing makeover games and dress up games with Selena Gomez and Justin Bieber and all your favorite stars, you've come to the right place - you'll find loads more celebrity girls' games right here!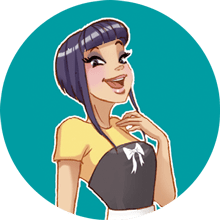 Selena Gomez Game is one of my favorites! We clearly have awesome taste! Come and play more of my fave makeover games!