How to play the game "Eating Chilies Game"?
If you like spicy food and want to take part in this funny competition – but you don't want to burn your tongue, then this will be the funniest game you'll ever play. You are taking part in a competition to eat as many super spicy chilies as you can in as short a time as possible. You'll be playing against another super spicy chili eater, and he's quick, so you'll have to be even faster if you want to beat him. This is a really fun game because you have to eat as many as you can as quickly as you can…but because it's only a funny game, you'll not really burn your mouth. Read more
All you need to do is start the game by clicking on the big yellow button, and then when you see the countdown (3…2…1…) just click as fast as you can, as many times as you can on the yellow button again. Each time you click on the button, your character will eat some of the chili. You'll see your chilies and your opponent's chilies going up and up until there's a winner! Make sure you're the first one to the top, and if you're not…try again and again until you win at this funny surprise game for girls!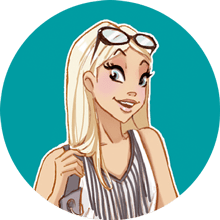 If you enjoyed Eating Chilies, you'll love these cooking games just like me!