Run your own sushi bar in this restaurant game for girls!
Maki, temaki, sashimi... what kind of sushi do you like best? Whether you're an expert when it comes to Japanese food or don't know your ramen from your rice, you'll love this free management game! Our friend Harumi has just opened his very own sushi restaurant in Tokyo, and he needs some great waitresses to help him serve the customers. Come and give him a hand with his cooking in this restaurant game for girls!
The customers in this Japanese restaurant will ask for different dishes; place their order on the tray, add soy sauce or seaweed if necessary, then drag it to them to receive your payment. Like most of our free management games, the aim is to earn as much money as you can before the time runs out. Good luck!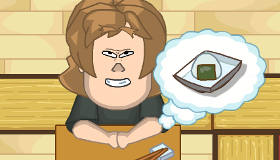 Sushi Restaurant Management
-
44
votes
Sushi Restaurant Management comments from girls: