How to play the game "Barbie's Cookies and Cream Ice Cream Game"?
Barbie has a secret trick for amazing her house guests. She makes the tastiest ice cream ever! Everyone wants to go for dinner at Barbie's house to try her famous homemade ice cream, but she has a little secret...it's not quite homemade. Ssh! This celebrity doll simply buys a tub of ice cream and then adds her own special touches to it! Read more
All you need for this tasty treat is ice cream, gummy candy, chopped chocolate cookies, cream and melted chocolate. Mmm, it sounds delicious already! Follow the instructions on screen to complete the recipe. If you decide to try it in your kitchen, experiment with the presentation. You can decorate this exquisite dessert with colorful sweets, chocolate chips, marshmallows and even fruit! It looks so yummy, we can't wait to try it!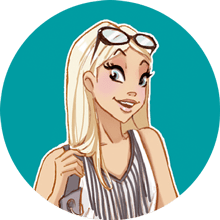 If you enjoyed Barbie's Cookies and Cream Ice Cream, you'll love these celebrity games just like me!