How to play the game "At the Chinese Restaurant Game"?
This evening everyone is going to the local chinese restaurant for dinner! Thanks to this decorating game for girls, you need to rearrange the restaurant so that it's ready for all the customers that will be coming in tonight! Read more
At the bottom of the game you'll be able to hold your mouse over the icon to see an example of how you could set it up...but you don't need to copy this, you can design the room any way you want! Be careful to make sure that all the tables have chairs around them, and that everything looks good before you open the doors to let all the hungry customers come rushing in!
Have a great time with this decoration game, and you can put a link to www.mygames4girls.com in your MSN name, or email it to your friends, so they can play all these fun games too!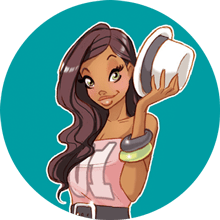 You're clearly loving At the Chinese Restaurant - you should check out my pick of the best decoration games!