How to play the game "American Pizza Parlour Game"?
It's time to travel again ladies in this cool cooking game for girls. We're off to the capital of the U.S.A...you know that place where the president lives in a big White House? Do you know what it's called? Washington D.C. of course! Pizza comes from Italy originally, but it's very popular in the states, especially on the east coast, where many Italian Americans cook and appreciate this delicious meal. Read more
Andrea is from Italy, and she recently opened her very own pizza parlour right next to the White House. Her pizzas are so delicious that food critics are already raving about them! Rumor has it that Barack Obama himself is going to visit the famous pizza parlour, after all, it is right on his doorstep! Andrea is nervous, so she's hired a helper to make sure everything goes ok...that's you! In this free cooking game you must pay close attention to every customer's order, be fast or they won't return to the pizza place! Look out too, because the president will appear at any time...do you think you've got what it takes to have a 'pizza' the action in this challenging girls' game? Show Andrea and the president what you can do!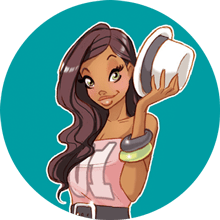 You're clearly loving American Pizza Parlour - you should check out my pick of the best pizza games!