How to play the game "Tidying Up the House Game"?
There's nothing like a nice, tidy house, so clean it's sparkling and with everything in its proper place! But if we want to keep our houses spick and span, we need to clean, scrub, sweep, organise and generally do lots of housework. Fortunately our girls' games can add an extra bit of fun into these chores! Lots of people work as maids in hotels or houses, and these girls will tell you that cleaning and tidying isn't always fun. In this free house game you'll meet Rachel; she's just been hired as a maid for the summer, and every week she needs to go to the Jones' family home to keep their house clean and tidy. Today is her first day, and she's a bit worried that she'll forget something. Can you give her a hand in this home game and make sure she does a good job? Read more
You'll have your work cut out for you in this home game for girls, so don't waste another minute; like all work games, you'll have to race against the clock to complete the tasks on time! Your first task is to help Rachel clean up the little girl's bedroom, putting everything back in its rightful place: stuffed toys, keys, chairs and everything else! (We'll give you a little clue: don't forget to make the bed!) If you manage to tidy up the bedroom properly, you'll be able to move onto the second level of this house game for girls, where you'll need to clean the kitchen and even prepare a meal for the family! So, do you think you've got what it takes to be a top maid? Prove it in this home game for girls, and make sure their house is glistening from top to bottom by the time you come home!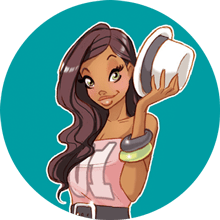 You're clearly loving Tidying Up the House - you should check out my pick of the best house games!