How to play the game "Tidying the Kitchen Game"?
There's nothing worse than coming home and finding the kitchen in a mess, right? Michelle is a writer and housewife, and she seems to spend half her time cleaning up after her two little girls. Can you help this poor lady tidy up her kitchen before the family gets home in this free girl game? Read more
Grab a cloth, roll up to sleeve and get to work in this free home game! You'll need to put away the plates and utensils which have been left around the kitchen, tidy up the kitchen and wipe away the stains the girls left when they were playing cooking games earlier. Why not help your parents tidy up around the house when you're done? We bet they'd appreciate the help! Have fun, and check back soon for brand new girls' games.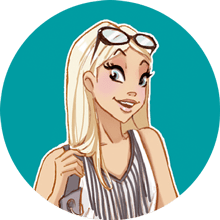 If you enjoyed Tidying the Kitchen , you'll love these home games just like me!