How to play the game "Sandwich Shop Game"?
Aargh, what stress! It's lunchtime on a cold, rainy Monday in the heart of the city, which means that the sandwich and burger shop in which you normally work on a weekend is absolutely packed full of customers! Your boss knew it was going to busy, so he snuck off and asked you to cover his shift! You're not used to it getting so busy so quickly at work, so this is going to be a real challenge for you in this free cooking game for girls! Read more
Customers come and go, and they all want to be served quickly...wow, they're all so stressed out! Hopefully a delicious sandwich or burger will help them chill out. Everyone needs time to enjoy their lunch, no matter how busy they are! Prove that you're one of the best saleswomen in the city in this girls' free cooking game, your boss is going to be so impressed when he sees how much money you've made in one day! Hmm...maybe YOU should be the boss! We think you at least deserve a free sandwich after all that hard work...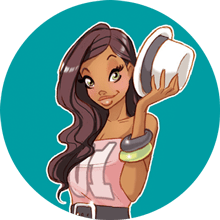 You're clearly loving Sandwich Shop - you should check out my pick of the best shop games!