How to play the game "Pop the Bubbles Game"?
Bored? Want some fun games to play? Whether you're looking for dress up games, puzzles, cooking games or something else, you'll find everything you need here at MyGames4Girls.com! Today we have a free puzzle game for you to try; all you need to do is use your mouse to pop green bubbles with a pin. Make sure you don't pop the red ones, or it'll be game over! Read more
This puzzle game might sound easy, but you'll need top speed and precision if you want to pop the green bubbles while avoiding the red ones. How many bubbles were you able to pop? Leave us a comment to tell us, and keep checking MyGames4Girls.com for brand new girls' games every day!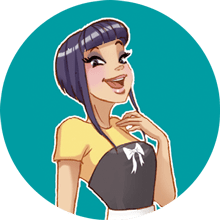 Pop the Bubbles is one of my favorites! We clearly have awesome taste! Come and play more of my fave puzzle games!