How to play the game "Playing with Halloween Pumpkins Game"?
The spookiest time of the year is upon us once again! Halloween is always a very exciting night, but you'll need to concentrate hard if you want to win this special girl game!
In this free Halloween game the residents on our street have carved magnificent pumpkins with spooky faces, but some trick or treater has muddled them all up for a joke. Try and match the pairs of pumpkins in this Halloween girl game! Read more
If you've played memory games like this one before, you'll know that you need concentration and speed if you want to find the pairs before the time runs out. Try to memorize the position of the pumpkins, then click the witches' hats to reveal what's underneath. Try to find three or more pairs in a row to earn bonus points, and make sure you find the pumpkin pairs before clock stops! Have you carved your Halloween pumpkin yet? What are you dressing up as this year? Come and chat about it on our forums with the other girls on the site! Happy Halloween!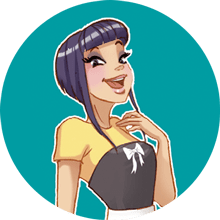 Playing with Halloween Pumpkins is one of my favorites! We clearly have awesome taste! Come and play more of my fave halloween games!