How to play the game "One Direction Makeover Game"?
The boys from One Direction have very exciting times ahead of them! As we know, they are international superstars who are worshipped around the globe by the Directioners... that's you guys! We know you love them just the way they are (and all their little things), but, in this free celebrity girls' game, you can dress them up exactly how you want! Imagine being able to do that for real! Sigh. In this celebrity makeover game, the boys' stylist has called in sick for the day, and boys being boys, they have no idea how to dress themselves fashionably.This is where you come in! Read more
Impress these pop cuties with your innate sense of style in this amazing celebrity dress up game. You'll find everything, from different hairstyles and beards to...pink lipstick! Don't forget, these English boys have been opened up to a whole new world of fashion and style, so they like to experiment. It's common knowledge that Zayn loves a bit of the guyliner! Click on 'show' when you're done with each band member and his band mates will then be able to see how you've styled them. Is your favorite Harry? Or maybe Niall? Style them all! This is so much fun, we could play all day! We love you 1D!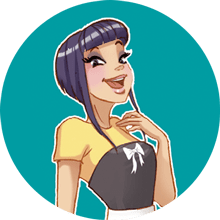 One Direction Makeover is one of my favorites! We clearly have awesome taste! Come and play more of my fave celebrity games!