How to play the game "Moana Bubble Shooter Game"?
Have you heard of the latest Disney movie, Moana? Moana's father is the head of an ancient people that cross the Pacific Ocean with the help of the gods, but this time, this Disney princess must face an epic adventure all alone. She will need your courage and intelligence to help her through it! An evil spirit has taken over the waters of the city. If you don't get the fish back to the water soon, the whole island will become cursed! Read more
The aim of the game is to save the little fishes without getting too excited over the bubble shooting! Whenever you have four or more balls of the same color in a row, they will disappear. Use your mouse to aim and click to drop them. Good luck girls! The fate of princess Moana and her family depends on you...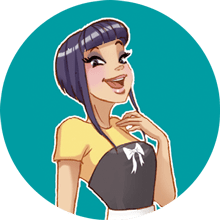 Moana Bubble Shooter is one of my favorites! We clearly have awesome taste! Come and play more of my fave disney games!