How to play the game "Ice Cream With Barbie Game"?
Barbie is in a bit of a pickle. She really wants to impress her boyfriend, the lovely Ken, so she volunteered to cook for the both of them tonight. Ken loves a woman who can cook! The problem is, Barbie may have exaggerated her cooking skills a little...ok, she made them up completely. She has no idea how to cook! Hmm, surely you must be able to cook something Barbie? Oh wait, she just remembered, she can make a mean ice cream sundae! Read more
In this free celebrity cooking game for girls, it's our job to make a lovely ice cream sundae for Ken and Barbie to enjoy on their night in. Follow the instructions on screen to make it perfect. The key thing about making an ice cream sundae perfect is to use really creative food decorating techniques. Hmm, do you think Barbie should tell Ken that she can't really cook anything else apart from this in this free Barbie game? We're sure Ken will still love you Barbie, especially after he's tasted this delicious ice cream!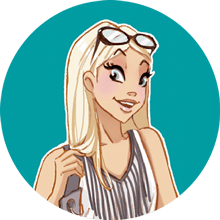 If you enjoyed Ice Cream With Barbie, you'll love these celebrity games just like me!