How to play the game "Female Tattooist Game"?
A few years ago, Susan realized that all the tattoo studios in her city were a bit rough. Why was nobody creating beautiful tattoos? Since then, this young artist has dreamed of being a professional tattoo artist for women. Today, her dream is going to come true! However, before opening the doors of her new tattoo parlour, you need to help style her hair and makeup. After all, Susan is going to have a lot of stylish customers, so she needs to make a good impression! Read more
Wash her hair first and apply a luxurious hair mask. This game will show you what to do step by step: cut, dry, curl...when you're ready to move onto the next stage, simply click 'next'. Now, it's time for the makeup. Remember, being adventurous is a great way to express yourself, especially for an artist! You can also be creative through Susan's clothes and accessories. Then, the most important part...the tattoos! Every tattoo artist must show off their tattoos. Choose the one you like best and then change the background. We think Susan is about to become a very famous tattoo artist, and it's all down to you!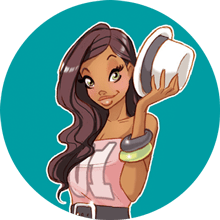 You're clearly loving Female Tattooist - you should check out my pick of the best art games!