How to play the game "Cupcake Shop Manager Game"?
Did you ever wish that you could own your very own cupcake shop? Well now, you are the manager of the busiest cupcake shop in town! You have to work right over lunchtime, the busiest time of day! The customers are already rushing through the door, I hope you're ready! Pay attention to people's orders and make the cupcake one by one. Phew, this is really hard work! This management game will really put your skills to the test, and it may also make you hungry...the cupcakes look so tasty! We think this is actually our dream job. Read more
Remember, you have to keep your customers happy so that they come back again, that's how any business works! There are many variations of cupcake in this girls' cooking game; chocolate, vanilla, strawberry...not to mention the different choices of toppings! Our favourite are the hundreds and thousands. Mmm! When you've finished preparing a customer's order, just click on the customer and see if they're satisfied! Congratulations, you make a great boss!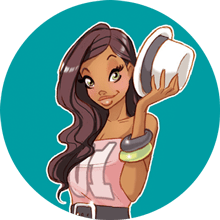 You're clearly loving Cupcake Shop Manager - you should check out my pick of the best work games!