How to play the game "Bubble shooting game"?
Check out this free shooting game for girls, it's so addictive, you'll lose yourself for hours! We're flying up into the clouds in this cute game. You're riding through the sky in an aeroplane as you're going away on holiday, but uh oh, what's that ahead? Bubbles in the sky!? This is highly unusual, and the pilot of your plane doesn't quite know what to do! There is no way some silly colored bubbles are getting in the way of your holiday! Read more
Make way, move along, there's a pro girl gamer coming through! Help the pilot out by shooting at balls of the same colour in this fun girls' shooting game. Watch the bubbles pop and disappear! We bet the people on the ground below can't believe their eyes! Keep going until there are only clouds left. Phew, we deserve a holiday after all this hard work! Fly on pilot, fly on...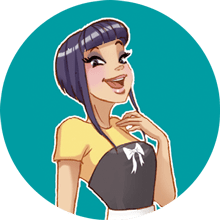 Bubble shooting game is one of my favorites! We clearly have awesome taste! Come and play more of my fave bubble shooter games!