How to play the game "Baking Chocolate Cheesecake Game"?
Mmm, something smells good! Let's find out what's on the girls' games menu today! In this cooking game we have a delicious chocolate chip cheesecake for you to bake, so grab your apron and let's get to work! Today you'll meet Alba, a really nice girl with a great passion for cooking. She'll give you instructions in this chocolate cake baking game and show you how to whip up a really simple but very delicious cheesecake. Alba knows tons of great recipes and cakes are her specialty, so you can trust her to show you the ropes in this girls' game! Read more
The first thing you need to do in this cooking game is mix the butter and ready-made crumbs with a whisk, then put the dough on the tray. Next you'll have to mix the rest of the ingredients in a bowl, put everything in the oven, and hey, presto! You've made a delicious chocolate cheesecake! Baking and cooking are a piece of cake in these girls' games! Why not try to make this dessert at home? Remember to ask a friend or relative for help! Have fun with this free cake game for girls, and keep browsing the cooking games section for lots more treats!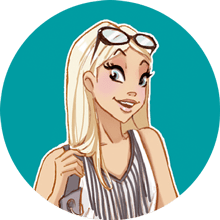 If you enjoyed Baking Chocolate Cheesecake, you'll love these baking games just like me!