How to play the game "Babysitter in Love Game"?
Have you ever worked as a babysitter before? Babysitting isn't always easy (as you might have noticed if you've played our girls' games!) but if you're patient and like playing with babies, it can be a great way to have fun and earn a bit of pocket money. In this free love game, you'll be playing as a babysitter girl who is hanging out with her boyfriend whie looking after the little boy and girl next door! Read more
If you want to earn your pocket money while you flirt with your boyfriend, you'll need to pay attention to two things at once: first, you'll need to keep an eye on the babies that you're babysitting, and secondly you'll need to keep an eye on your boyfriend - he needs attention to! If you manage to work as a babysitter and have fun with your boyfriend all at once, you'll earn lots of money and even be able to go shopping in this girl game! Have fun, and check out the surprise section for more babysitting and baby games!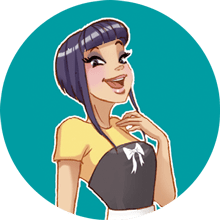 Babysitter in Love is one of my favorites! We clearly have awesome taste! Come and play more of my fave babysitting games!