How to play the game "Animal Restaurant Management Game"?
Do you love going out for dinner and eating at restaurants? What do you think makes really good waiting service? Speed, manners, a good memory and a nice smile are some of the qualities you need if you want to be a really great waiter or waitress and keep your customers happy. Do you think you can tackle all the challenges of working in a restaurant and help our friend Phil the penguin out in this girls' game? It's his first day as a waiter in a Japanese restaurant, and he's a bit nervous! Read more
Once you've slipped on your apron and prepared your orders book, you'll be ready to get to work in this restaurant management game! Set your customers, take their orders (sushi, rice, temaki, green tea...) then go to the bar to pick up the different dishes and place them on the table. If these adorable little animals are happy with your service, they'll leave money on the table and maybe even a tip! Just make sure you serve them all as quickly as you can, because these busy penguins are in a rush!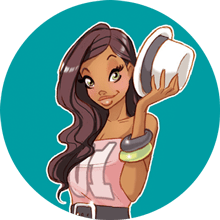 You're clearly loving Animal Restaurant Management - you should check out my pick of the best restaurant games!