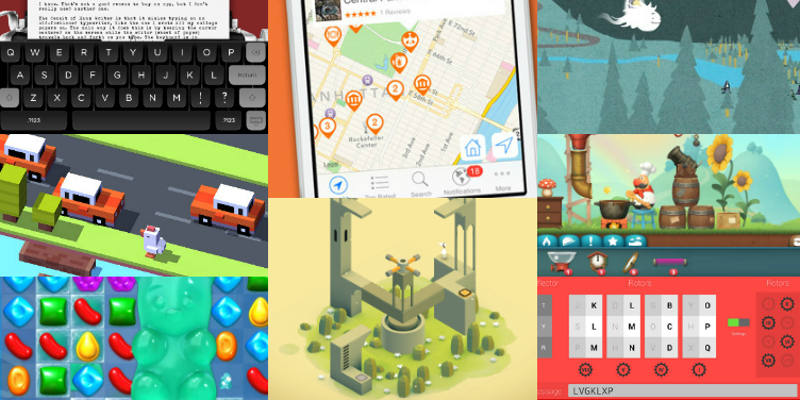 We love games, we love apps, and we love smartphones and tablets. So why when we hop over to any app store does it all seem a bit tailored either to boys, or boring grown ups who want to make endless lists like loonies? We decided to compile our own list of the best apps of 2015 for the coolest gender and the best age group (that's you).
Inventioneers
Inventioneers are teeny tiny hard-hat wearing people who love to build your designs, no matter how crazy. Plus they have hilarious names like 'Windy'. Attach cannons to toadstools, grow sunflowers around hot dogs; you can invent anything you fancy from the practical to the simply bizarre!

Yuggler
Next time you're trailing around after your parents doing fabulously dull grown-up stuff, you'll thank us for telling you about Yuggler! This smart little app shows you all the cool stuff in the area so you can cleverly guide your parents in the direction of a theme park, or a waterpark, or maybe a ski centre. Win!
Just Dance Motion Controller
If you have experienced the twerking, boogying sensation that is Just Dance but don't have a Kinect or PlayStation Move controller or PS Camera to play with, it's time to grab your smartphone and wipe away those tears! This app turns your phone into a controller, and you can even grab up to six mates to play along with! If you're willing to risk your friendships, the app can also keep score…
My Om Nom
The makers of Cut the Rope have taken their candy-munching green monster to a whole new level: now you can keep your very own pet Om Nom, dress it up, play tons of mini games and of course, feed him his favourite sugary snacks! There's even super cute Om Nelle - the girl version of Om Nom, dontcha know.

Candy Crush Soda Saga
You can't talk about apps without mentioning Candy Crush - it might even be illegal. The latest instalment of the Candy Crush saga asks you to help Kimmy find her little sister Tiffi - or in other words, match the symbols and solve the puzzles as usual. So-da, so good (we are non-stop!).

Little Big Foot
This game isn't strictly for teens as it's very very very easy, but it looks so amazing we couldn't not have it in our list. It's sort of like an adorable cartoon with lovely music and a cute story to follow, as Little Big Foot leaves home, heading off all alone to see the Big City. But now all we want to do is laze around on fluffy clouds with the Big Foots (Big Feet?).
LaLaLoopsy Diner
You must've been living under a rock at the bottom of the ocean if you haven't heard of LaLaLoopsy land. The LaLaLoopsy button-eyed dolls now have their own app, where you have to whip up delicious snacks for every customer in the LaLaLoopsy diner! Pancakes, burgers, pizza and more, this game made us... well, hungry.

Cryptoy
Cryptoy is SO COOL. Developed by GCHQ, a security and intelligence organisation (read: spies) who work for the British Government, it lets you explore all kinds of codes and teaches you how to break them. There are four different kinds of code (encryption techniques if you're feelin' fancy): Shift, Substitution, Vigenère and Enigma. Just call us Mrs. James Bond.

Crossy Road
This app does exactly what it says on the tin - you've got to cross the road, obvs. Hop your little character (cat, human, chicken, unicorn - your choice) and avoid a dramatically explosive death (or a severe squashing) from the traffic to reach the safety of the other side.
Monument Valley
Monument Valley is a little weird and a little tricky, but totally beautiful and amazing. Your job is to guide a princess through a weirdly shifting world, past ridiculously cool castles that you have to twist and reshape to make paths. Trust us, you'll be totally addicted. If you're not terrified out of your wits by the creepy music.

Cheeky Extra Bonus App We Couldn't Leave Out: Hanx
We thought we'd been a bit focused on games when we made our list, so we've added a bonus app to our list for the budding writers amongst you. Hanx, developed along with and named after actor Tom Hanks, strangely enough, is basically a funky little typewriter. Goodbye uninspiring fonts; create your masterpiece in retro style. It even has authentic clickety-click noises!!

To sum up: 2015 is going to be chock full of super cool new apps. Watch out though; after seeing you crack codes and help unicorns across busy junctions, your mates will be bothering you 24/7 asking what apps you're downloading next...