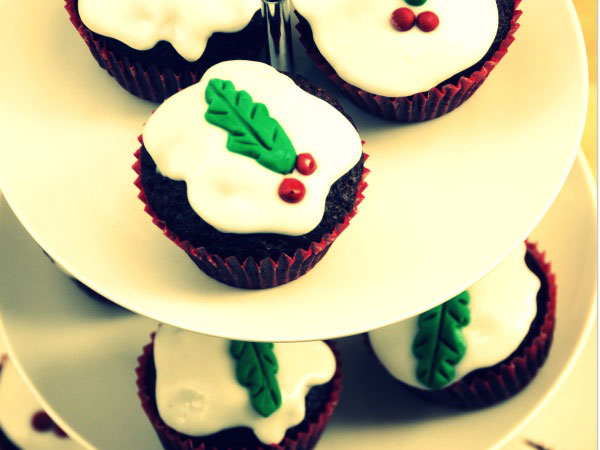 Well done! You've already completed parts one and two of our Christmas dinner recipe collection, and now you want to try out part three: dessert. These are the simplest, but most adorable Christmas puddings you will ever make, because (shhh) we're going to cheat a bit. You need some store-bought mini-muffins. You choose the flavour; plain, chocolate chip, blueberry…whichever tickles your festive fancy. Then we're going to skip straight to the fun part and decorate them. Get ready for an easy Christmas dessert recipe that will have you reaching for seconds!
Mini Christmas Puddings
Ingredients:
- Box of 12 mini-muffins
- 300g White, ready to use fondant icing
- Red food coloring
- Green food coloring
- Tiny bit of icing sugar
What to do:
Lightly dust a work surface with some icing sugar and roll out 200g of the fondant icing until it's quite thin.
Cut out 12 irregular rounds and use them to top each mini muffin to make it look like a white Christmas pudding topping. Cute!
Make sure you wear an apron for this step, it could get messy! Color 50g of the remaining fondant icing with green food coloring and the rest with red food coloring. Wash your hands afterwards! With soap!
Roll out the green fondant and cut out small holly leaf shapes. Roll the red fondant into small cherry shapes using your fingertips.
Finish off decorating the muffins with the leaves and berries, using a little dab of water to help them stick.
Now it's finally time to eat! We hope you enjoyed our delicious Christmas recipes and that you have a great family Christmas dinner. Happy Holidays!