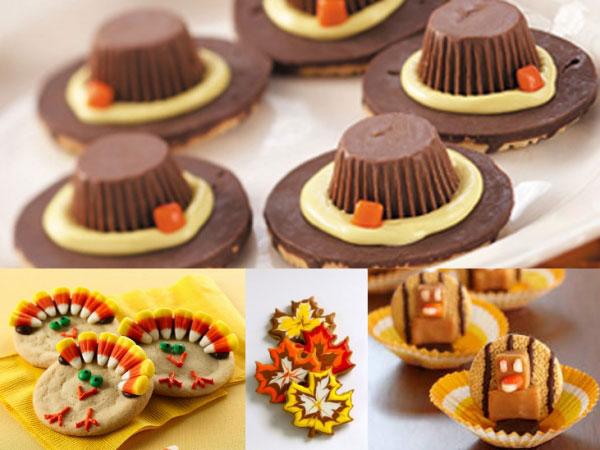 Turkey Day is just a few weeks away, and we bet your families are already busy stocking up on yams, cranberry sauce, pumpkin pie and everything else you need for your Thanksgiving meal. Why not help out this year with a few special dishes of your own? We've found a couple of simple Thanksgiving recipes that you kids can bake with just a few ingredients, and all by yourselves!
TURKEY COOKIES
These Thanksgiving turkey cookies are almost too cute to eat!
Ingredients:
- Sugar Cookies
- Candy Corn
- Chocolate Frosting
- Orange Decorating Icing
- Sugar-Coated Chocolate Pieces
1. Pipe chocolate frosting halfway around the side of each cookie.
2. Stick 7 or 8 pieces of candy corn on each to make the turkey's feathers.
3. Next, glue on two sugar-coated chocolate pieces with a little bit of frosting to make the eyes.
4. Finally, draw a tiny beak and feet with the orange decorating icing.
PILGRIM HAT COOKIES
Pay tribute to the Founding Fathers of the USA with these adorable pilgrim hat cookies.
Ingredients:
- Fudge-Striped Cookies
- Mini Peanut Butter Cups
- Vanilla Frosting
- Orange Tic-Tacs
1. Remove the foil from a peanut butter cup and dip the top in the vanilla frosting.
2. Turn a cookie fudge-side up and place the peanut butter cup in the center.
3. Place an orange tic-tac in the frosting for the buckle.
Easy, huh? We can't think of a better (or tastier) way to give thanks to your family this November 22nd than by whipping up a few of these special Thanksgiving cookies to enjoy after your turkey - if you still have room, that is! Happy Thanksgiving!
Source/Images: FormulaMom.com