How to play the game "Sushi Restaurant Girls Game"?
Konnichiwa! You know we love traveling and tasting the world in our cooking games, and today we're visiting the Land of the Rising Sun – Japan! Our friend Kaito opened his own sushi restaurant a few years ago, and he's finally decided to take a break to go and visit his family back in Tokyo. Time for a cooking games expert like you step in and help him: make sushi, maki, sashimi, green tea and other Japanese dishes to keep his loyal clients happy! Read more
Have you ever sliced nigiri or rolled maki? It might be a bit tricky in real life, but it's really simple in girls' games! To play this sushi game for girls, you just need to watch your customers and carefully take their orders, then click on the different ingredients on the left of the green then on the sushi belt to put together delicious plates that will make your their mouths water! Don't worry if you make mistakes in this cooking game for girls, because you can always throw the dish in the bin and begin again!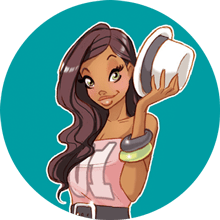 You're clearly loving Sushi Restaurant Girls Game - you should check out my pick of the best cooking games!