How to play the game "Online Shakira make-up game"?
You'll have so much fun beautifying Shakira in this new Shakira online make-up game. Shakira is a famous South American singer who is just about to go on tour. You can choose her hairstyle, make-up, clothing and jewelry to make her look ultra hot in this online girls game. Rock stars need to put their best face forward while performing on stage and with this game for girls, you'll have Shakira looking beautiful with stunning make-up, designer clothes and the coolest hairstyles. Read more
In this girls game, you can do a before and after shot to see how she looked originally to how she looks with her fabulous new makeover. You can also press save to keep the looks you've created with this online game. Mygames4girls.com offers many more fantastic make-up and dress up games for girls featuring celebrities. You'll never tire of creating new looks with these fun online make-up games just for girls.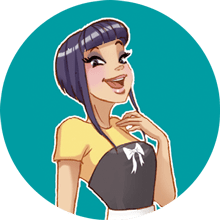 Online Shakira make-up game is one of my favorites! We clearly have awesome taste! Come and play more of my fave makeover games!