How to play the game "Flower Shop Management Game"?
The Green Flower Shop has been in Carry's family for years. Her grandmother opened the shop in 1940, then her Mom ran it, and now it's Carry's turn to take over the family business! Carry has been helping out in the shop since she was a little girl and knows everything there is to know about flower arranging, but she's a bit nervous about being left in charge. In this work game, you'll need to help her serve her customers for a day. You'll have a target amount of money that you must meet every day if you want your shop to succeed. Time is money in business, so let's get started! Read more
When a customer enters the shop in this management game, they'll give you an order of flowers that you'll need to make up. Click on the book at the top of the screen to see which pieces you need to create the arrangement, drag them onto the counter, then click 'wrap' so Carry can turn them into a beautiful bouquet. The customers at the Green Flower Shop are friendly, but some of them aren't so patient: you'll need to make up their orders as quickly as you can to keep them happy and make sure they pay you the right amount of money. There are 10 levels to complete in this girls' game - that's a lot of flowers to arrange! If you've played girls' games or management games before you'll know that being the boss can be hard work, so Carry will be very grateful for your help!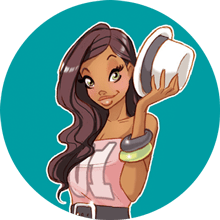 You're clearly loving Flower Shop Management - you should check out my pick of the best work games!