How to play the game "Find the Pairs Game"?
Have you got a great memory? Prove it with this online puzzle game! In this girls' game you'll meet Buddy, a cute little puppy who has a rather unusual hobby... he loves stamp collecting! Buddy has a really big stamp collection, but unfortunately his favorite stamps have gotten all muddled up in the box where he keeps them. Can you help him sort them out in this puzzle game? Buddy has two of each stamp, so you need to find the pairs in this memory game for girls. Just click the stamps to see all the patterns and pictures on the other side, then try your best to find the matching card. Read more
Like many online girls' games, this memory challenge starts off pretty easy but quickly gets much more difficult. There are several levels for you to complete, and in each one you'll have more and more stamps to find before the time runs out. You only have a few minutes to match the pairs, so you'll need to work fast and do your best to remember where the cards are placed!
Have fun playing this free cards game, and make sure you check out the rest of the girls' games on the site for lots more pair games and puzzle games!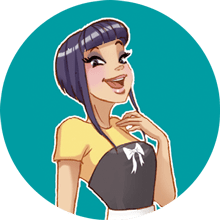 Find the Pairs is one of my favorites! We clearly have awesome taste! Come and play more of my fave memory games!