How to play the game "Croissant Cooking Game"?
Guess what's on the menu this morning? French croissants! These tasty pastries are golden brown and melt in your mouth. They're super delicious, especially with chocolate or jam! In this free cooking game, our pretty little chef Aurelie will let you in on her grandmother's secret croissant recipe so you can help her prepare a delicious breakfast for her family. If you want to work as a baker or a chef like Aurelie one day, you'll need to know your recipes and ingredients very well indeed. Cooking games like this one are a great way to practise and learn, so let's get going! Read more
Just like all baking games, first thing you'll have to do is add the ingredients to the bowl. Simply click on the item you see in the green frame – the pictures are blurred, so it might be a bit tricky at first! Next, just follow the arrows to roll and cut the dough and mould it into the croissant's traditional crescent shape. Finally, pop them in the oven and wait until they're cooked. It might sound easy, but your time is limited, so try to complete each phase as quickly as you can. The sooner you finish this online girls' game, the sooner you'll be able to admire your golden croissants. Bet you'll be hungry once you see these tasty treats! Bon appétit!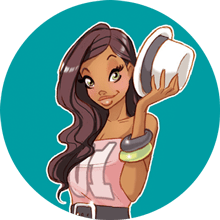 You're clearly loving Croissant Cooking Game - you should check out my pick of the best work games!