How to play the game "Cooking at a Summer Barbeque Party Game"?
Tonight you and your girls friends are havng a barbeque at home and you're in charge of getting all the food cooked. It's not easy cooking meat though, because it's got to be cooked well enough...but not cooked too much! If it's under or over cooked in this game, you'll lose points - it has to be a nice brown colour to get the maximum points. Read more
Start by pressing the "GO" button and then all you need to do is drag the skewers of meat onto the BBQ. Then just keep turning them until both sides are nice and brown. Finally just drag the cooked skewers onto the plate...and start the next one!
You've not got long though, and you'll only get onto the next level if your skewers are really well cooked, and you've collected enough points!
Once all your food is cooked, you'll all be able to have a great big feast with all of your friends, and then play lots of games with them for the rest of the night. Have a great time!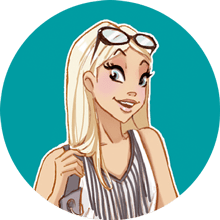 If you enjoyed Cooking at a Summer Barbeque Party, you'll love these cooking games just like me!