How to play the game "Chinese Restaurant Game"?
There is a very special job waiting for you in this exciting cooking game for girls. It's a cooking game like no other! We're travelling to China, and you have landed a job in Beijing's most popular Chinese restaurant…wow! Your boss is very nice, but very strict, and she expects you to do a good job. You need to search through the fridge and cupboards to find the items you need (hint: you get a clue at the top left hand corner of the screen), but if you pick the wrong item, you'll lose points! Read more
The head waitress will show you where to go, but when you get the order you are on your own! You really need to cook Chinese food to a high standard or you will lose your job, this free cooking game is pretty tricky! What's great about your job in this Chinese restaurant is that you can learn all the names of the ingredients, so then you can learn to cook these oriental meals for real! Keep practising this free Chinese food game for girls, then let us know how far you got in the comments!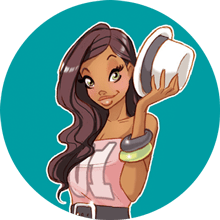 You're clearly loving Chinese Restaurant - you should check out my pick of the best restaurant games!