Transform Jennifer Lawrence from 'The Hunger Games' into a cheerleader in this dress up game!
Have you read the Hunger Games trilogy, or seen the movie starring the lovely Jennifer Lawrence? If you're a fan of Katniss Everdeen, Peeta Mellark and their incredible adventures in the arena, you'll love this celebrity dress up game! Today you'll get to dress up Jennifer Lawrence for a new movie, where she'll be playing a popular girl who is head cheerleader at her high school.
We know you love playing with your favorite stars in celebrity dress up games, so you'll find loads of your favorite actresses and singers on this site. Dress up Jennifer Lawrence as a cheerleader, choosing from costumes, sneakers and pom-poms in all sorts of colors, and make sure she looks super pretty when the movie begins shooting. Want to play more girls' games with the Hunger Games star? Just check out the celebrity games section!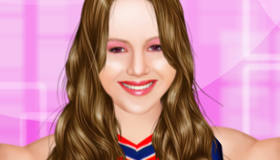 Jennifer Lawrence Game
-
22
votes
Jennifer Lawrence Game comments from girls: