How to play the game "Cake Memory Game"?
Hey girls, it's Lea here! Hope you're hungry for a challenge, because we've cooked up a really tricky puzzle for you in today's girls' games. Lee and Lilou's friend Nadia owns a bakery, and in this cooking memory game for girls she's having a real disaster: all her cookies, cakes and snacks have become mixed up! Brownies, oreos, croissants, pancakes, tarts… come and help this baker girl to match the pairs in this memory game for girls. Read more
If you've got a memory like an elephant, put it to the test in this free puzzle game! Sort out the cakes before the customers arrive at the bakery by clicking on the cards to find the pairs. You need to memorize and match the pairs of cakes before the time runs out and there are three levels to complete, so concentrate hard! This memory game is no piece of cake, but after all those puzzle and logic games you've played, we know you'll hit the high scores.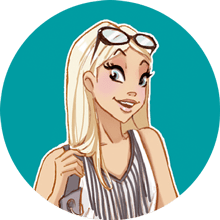 If you enjoyed Cake Memory , you'll love these cake games just like me!